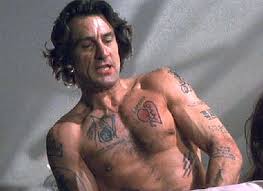 Marked Men: The 10 Coolest Tattoos on Film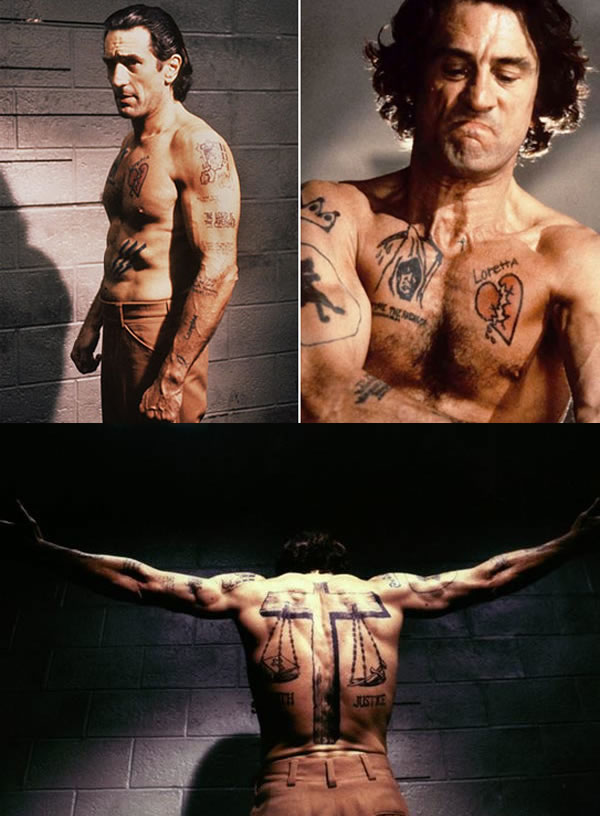 When presenting a character in a film, directors and costume designers think very carefully about every last detail: what color shirt, what brand of shoes, how mussed the hair. Maybe this is why some of the coolest and most apt tattoos we've ever seen have popped up in movies, from the original knuckle tattoos to this year's hottest movie sensation (hint: dragons). From the silly to the terrifying, the ominous to the controversial, click through to see our ten favorite tattoos on film, and since we know there are hundreds of great ones out there, be sure to let us know if we've missed any of your own favorites.
Max Cady's myriad tattoos, Cape Fear
Funnily enough, it's Robert Mitchum, the actor who played Harry Powell, and who also starred in the original 1962 Cape Fear, who peers at De Niro's chest and shrugs, "I don't know whether to look at him or read him." Fair enough — as Cady jokes later, "there isn't much to do in prison except desecrate your flesh," especially when you're just biding your time until you can exact your proper justice.
https://indianinknc.com/wp-content/uploads/2014/10/images.jpg
191
263
elementalone
https://indianinknc.com/wp-content/uploads/2019/07/header_logo.png
elementalone
2014-10-18 21:36:13
2014-10-18 21:36:13
Marked Men: The 10 Coolest Tattoos on Film